[ad_1]

Recreate the scenes from the adorable children' book Little Blue Truck with this magnetic farm activity for kids.  Beep, Beep, Beep goes the truck as you help your child learn animals sounds and names with this activity.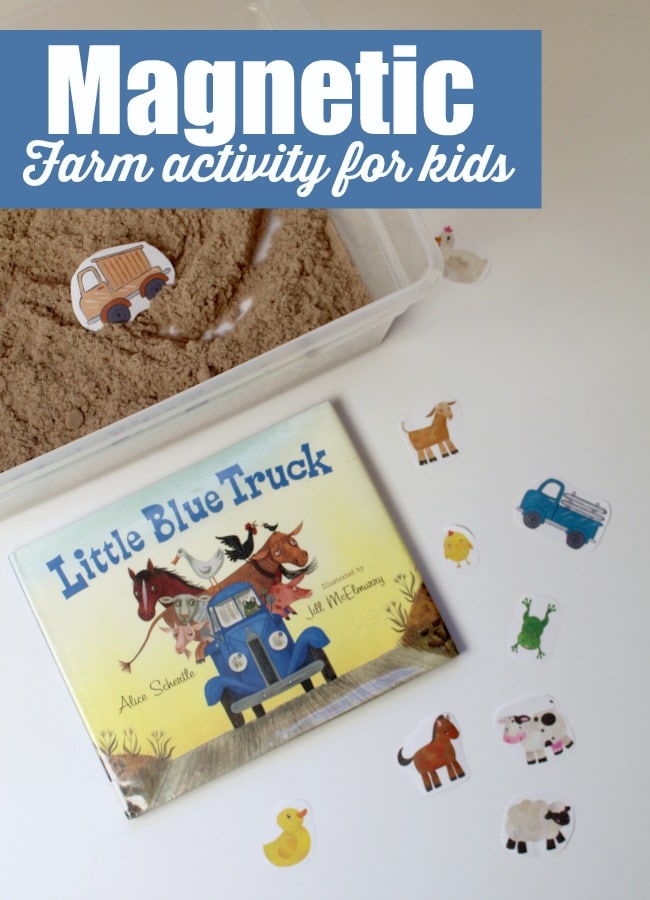 Spending time at a farm with your child is such an classic part of childhood. As they begin to discover a cow, pig, horse or chicken really it with the sounds and movements. This fall look around your community to see what opportunities that are available to you. Many corn mazes invite you out onto their farm and plan to take time to observe the animals while you're there.  
Our theme forWeekly Virtual Book Club for Kids this week is FARM.  
Our featured story is Little Blue Truck.
A favorite toy at our house this time of year is our Fisher Price Farm Set  and our Safari Down on the Farm Tube. Adding a few farm books from below to a little learning station along with with these toys is a great way to incorporate books and toys. You could even add a little word wall there with the names of the animals to start introducing those words. Draw a picture next to the words to help them learn to identify for your younger children.  
Here's an idea for a DIY Pretend Farm Play Mat to add to your farm station to help encourage pretend play.
Here's a few more farm activities:

Amazon Links Included in Post. 
Little Blue Truck by Alice Schertle
Watch the Read Aloud of Little Blue Truck
We selected the children's book Little Blue Truck  is quite popular with many families and teachers.  The adorable blue truck Beep's it's way through the countryside making farm friends along the way. They are even willing to answer his call for help to get him out of a muddy situation with a big dump truck. One of my favorite ways to create a book activity with this story book is to create a retelling experience for kids.
This Retelling Activity for the Little Blue Truck has a bit of science fun mixed in by adding magnets to the adventure.  Can you make the little blue truck move?
Try out this science book challenge with your kids!  
Materials Needed 
Kinetic Sand  or Regular Sand or even mud if you're ready for sensory fun too
Hot Glue Gun with Glue Sticks
Contact Paper
Scissors
ADULTS: Please use caution when using magnetics around small children. 
Magnetic Farm Activity for Little Blue Truck
Directions to Make and Play
1. Print about the character and Little Blue Truck from the story. I used this Little Blue Truck Unit from Simply Learning Kids.
2. Cover the pieces with contact paper and cut them out.
3. Attach a magnet to the back of each of the farm animals and the Little Blue Truck and Dump Truck
4. Place sand in a large clear plastic container. Elevate the sand above the ground by placing support on each side of the container to allow access to the portion below. We used two small chairs for ours, small shoes could work too.  Be sure you're set up in a place that allows for spills.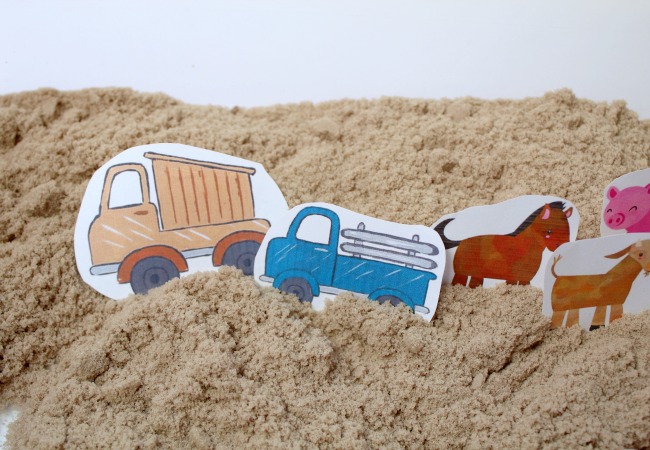 5. Place farm animals and Little Blue Truck into the container with sand, magnetic side down.
6. From below your child can retell the story by moving the magnets around on the characters by using a stronger magnet under the container. You'll need a really strong magnet to get the pieces to move.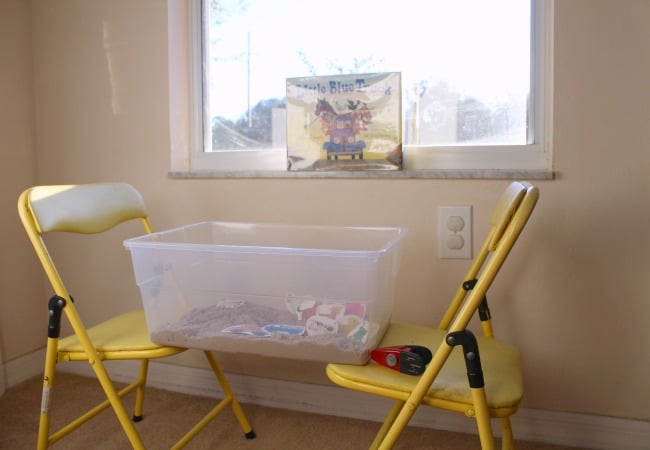 7. You can add additional elements from the story scenes to make your own special farm.
We used our dot markers to work on our beginning sounds and fine motor skills from this printable too.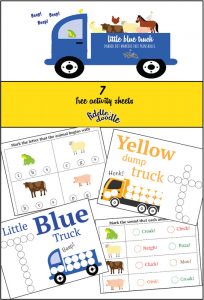 Printable Little Blue Truck Activity Sheets from Fiddle and Doodle Dot Markers 
Farm Themed Books for Kids
What the Ladybird Heard by Julia Donaldson
Goodnight Tractor by Michelle Robinson
Maisy's Tractor by Lucy Cousins
Big Red Barn by Margaret Wise Brown
Big Fat Hen by Keith Baker
How Big is a Pig? by Clare Beaton
The Little Red Hen by Byron Barton
Moo Baa La La La by Sandra Boynton
Click, Clack, Moo: Cows That Type by Doreen Cronin
Duck on a Tractor by David Shannon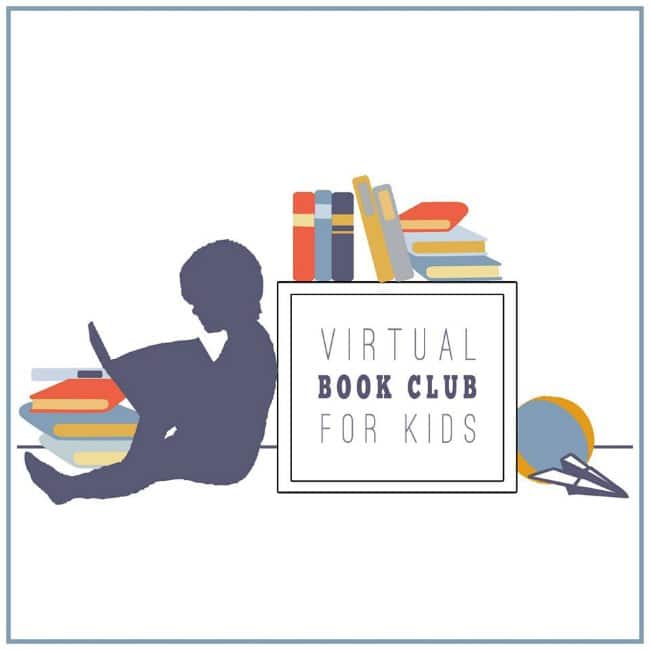 Join our WEEKLY Virtual Book Club for Kids
YOU'RE INVITED. We're inviting you to join along and share your own farm themed ideas with your child or students using the featured story Little Blue Truck or one of the other Farm Books mentioned above. You can share on our facebook page or join our VBC Facebook Group.
CLICK HERE to see the Tutorial on how to make your Own Little Blue Truck
Farm Themed Activities for Preschoolers
Alphabet Activities
Little Blue Truck ABC Animal Pick Up – Growing Book by Book
Farm Animal Beginning Sounds and Bingo– Rainy Day Mum
Farm Alpahbet Scavenger Hunt– Sunny Day Family
Number Activities
Play & Count Farm Animals – My Storytime Corner
Farm Animal I SPY & Graph Printable – School Time Snippets
Number Games Based on Little Blue Truck Books– JDaniel4's Mom
Sensory Activities
Litttle Blue Truck Sensory Bin – Adventures of Ada
Cooking Activities
Haystacks Snack for Kids – Views From a Step Stool
Mud Pit Chip Dip – Preschool Powol Packets
Science Activities
Little Blue Truck Magnetic Farm Activity
Farm Animal Races – Inspiration Laboratories

Color Activities
Colour Sorting with Farm Animals – Clare's Little Tots
Pre-Writing Activities
Decorate a Farm Animal – Mama Smiles
Little Blue Truck Farm Animal Story Retelling – Powerful Mothering
Roll-a-Story Fun (Includes Character Printables)—Chickadee Lit
Movement Activities
Farm Themed Brain Breaks-Sugar Aunts
Hide & Match Farm Animal Puzzle Game- Toddler Approved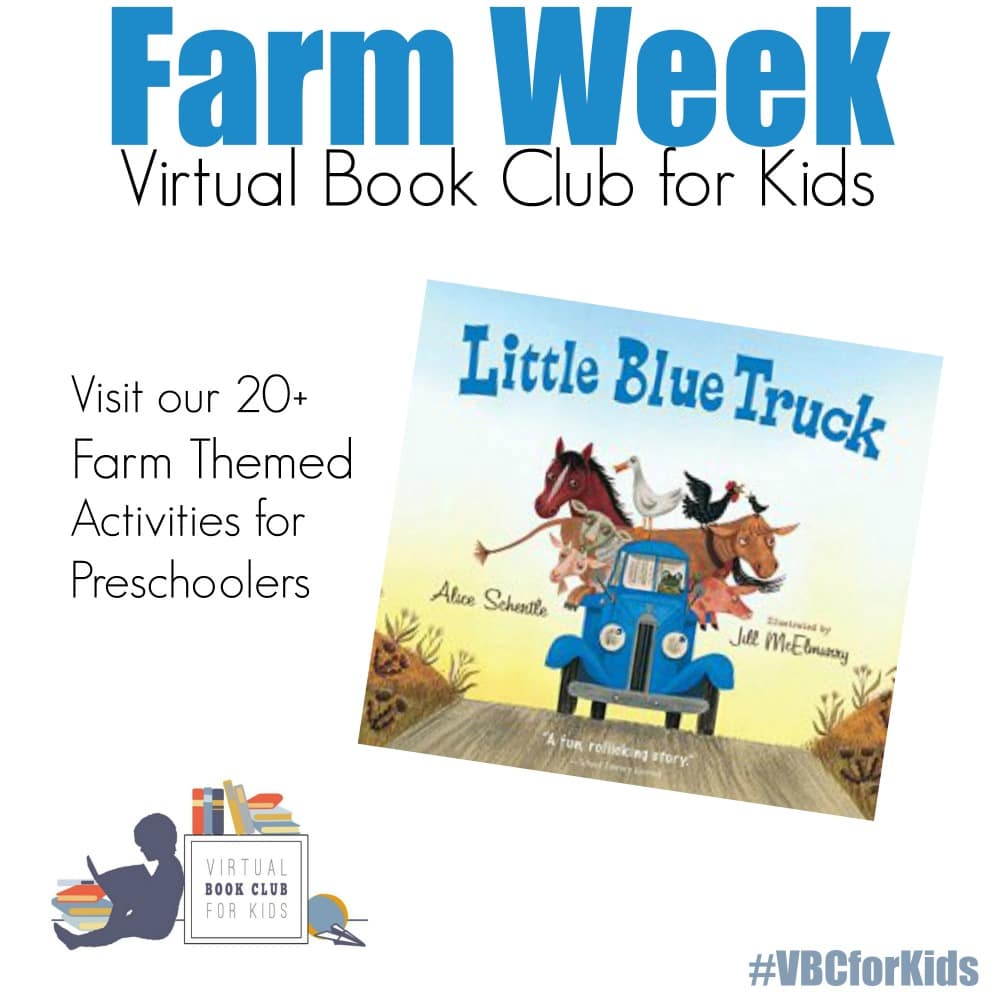 For more Farm Activities for your Preschooler


[ad_2]